Vessel Safety Check
What is a Vessel Safety Check?
A Vessel Safety Check is a courtesy examination of your boat (vessel) to verify the presence and condition of certain safety equipment required by state and/or federal regulations. The vessel examiner is a trained specialist and is a member of the US Power Squadrons or the US Coast Guard Auxiliary. They may also make recommendations and discuss safety issues that will make you a safer boater.
This is not boarding or a law enforcement issue. No citations will be given as a result of this encounter. We will supply you with a copy of our evaluation so that you may follow some of the suggestions given. Vessels that pass will be able to display our distinctive VSC decal. This does not exempt you from law enforcement boarding, but you can be prepared to make this a positive encounter.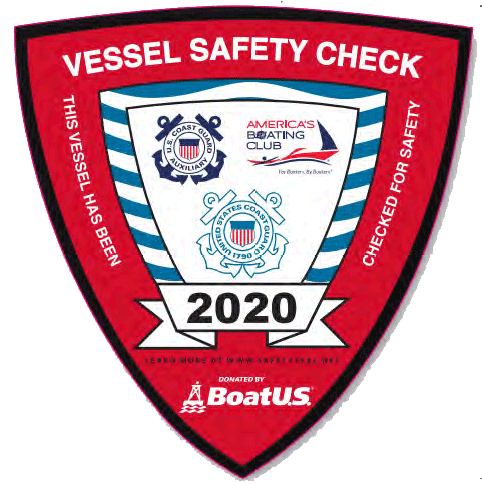 You can give yourself a "Virtual VSC", then request that one of our examiners perform an actual Vessel Safety Check. The US Power Squadrons and US Coast Guard Auxiliary have teamed up to provide an on-line Vessel Safety Check Examiner Database where you can enter your ZIP code to search the database to find the examiners closest to your location.
Once again, both BoatUS and West Marine have agreed to extend their 10% discount for boaters who have had a Vessel Safety Check (VSC). They are entitled to the discount regardless of whether they pass or fail the VSC. The unconditional discount is to encourage boaters to get a VSC, even if they believe they may not be in compliance with all boat and/or carriage requirements. The discount rewards boaters for the educational experience they receive, since all vessel examiners discuss a number of safety topics during each check.
America's Boating Channel - Vessel Safety Checks (5:16)