Maritime Mobile Service Identity
What is a MMSI number?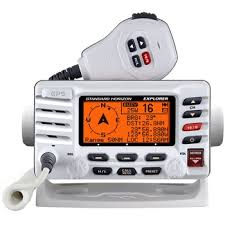 The Maritime Mobile Service Identity number is a unique nine-digit number assigned to ships with certain kinds of radio equipment, such as VHF radios with Digital Selective Calling (DSC), and radar or chart plotters with Automated Identification System (AIS). All DSC–equipped radios, and most GPS receivers, have an NMEA 0183 two-wire data protocol. That NMEA protocol allows any model of GPS to be successfully interconnected to any model of radio, regardless of manufacture.
The MMSI number is programmed into this equipment for vessel identification purposes. When the equipment is properly configured with a valid MMSI it includes it while sending and receiving messages with the U.S. Coast Guard, Search and Rescue authorities, and other vessels. The central MMSI database then provides important information about a vessel such as: owner's name, intended route, and other radio equipment on board, and also whether it is a valid alert.
The US Coast Guard urges that you take the time to interconnect your GPS and DSC-equipped radio. Doing so may save your life in a distress situation! Before interconnecting your radio & GPS consult the owner's manuals.
How do I obtain a MMSI?
America's Boating Club is authorized by the Federal Communications Commission (FCC) and the US Coast Guard to issue a MMSI number to US flagged vessels not subject to Safety of Life at Sea (SOLAS) Convention requirements. This includes almost all recreational boats. Vessels required to have FCC ship station licenses, including US flagged pleasure craft making international voyages, must obtain their MMSI directly from the FCC.
This is your portal to obtaining a MMSI number for your vessel at no charge. The issued MMSI will be unique to your boat and must be programmed into all equipment capable of transmitting and receiving digital signals.
To request a new MMSI number for your vessel, go to: ABC MMSI
To downlaod the MMSI Public Notice from the FCC, go to: MMSI Public Notice
---
America's Boating Channel - MMSI Video (7:12)